By Adrian | December 17, 2018
This was the start of the main event. We had well intentioned plans at the start to take on the 11 peaks walk at Mt Kosciuszko National Park. Michael and I had many discussions about just about every aspect of this walk up to this point. From the extra weight in our packs, camping at Mullers Pass, daytime weather, night weather, short term forecasts, amount of time available, the amount of snow out on the range, the amount of walking we had already covered up to this point, the way we were feeling at this point etc. We really did go over everything and it gave us a great idea of where we were at.
The walk we had loosely based off the "Aussie 10" walk which is ideally a 4 day, 3 night walk which takes on the highest peaks on mainland Australia. We wanted to compress this into 2 day walks and devised a plan accordingly with the idea that any plan we did have could be changed at any time.
After leaving Jindabyne we got to our start location at Charlotte Pass at around 7:30am. The sun was just coming up and the day was looking to be perfect for walking.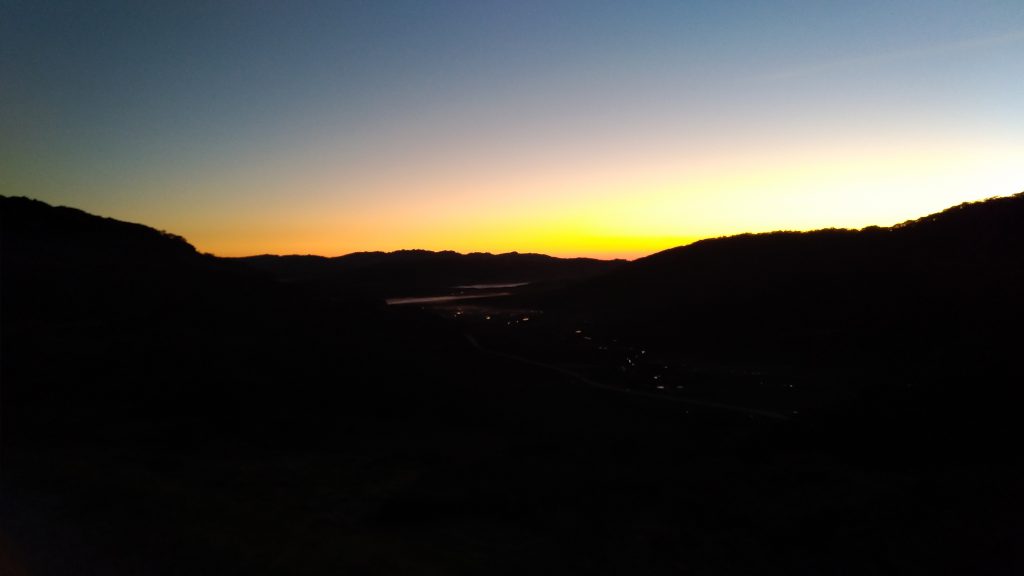 sunrise from Charlotte Pass
The plan we had discussed for today was to drop the overnight packs and take the day pack with our water, food and water filter so we could ensure clean water through the day. We were to tackle the southern points of this walk, so Rams Head, Rams Head North and potentially Mt Kosciuszko, and then camp back at Charlotte Pass somewhere close on the range. We had a good 10 – 12 hours of daylight ahead of us so that was not going to be an issue for us.
Around this time last year, Michael and I did complete the main range walk and decided to do it in reverse this time as it would give us a different perspective and a different look at the views along the way.
We headed up the Mt Stillwell track to take on an unoffical peak of this walk. After we summit-ed this we proceeded to get back onto the Summit track with a little bit of off track bashing. We stopped at Rawson pass where we for a break and I iced my foot in a small patch of snow. From there we proceeded to head over to Rams head.

A view about 1⁄2 way up the Rams Head.
If there is one thing I have a lot more respect for its the contour lines and distances on a map. Just looking at the map and navigating point to point looks so much more trivial than when you do it for real.
After taking down the 4th highest peak with a rock scramble we continued to Rams Head North (#6) which was a short distance away. It was awesome to experience the terrain that is off the normal track.
Once we had completed Rams Head North we made our way back onto the elevated steel walking track that starts at the top of the Threadbo chairlift back to Rawson pass for another rest. Along the way there was a large shelf of melting ice where I once again took the opportunity to freeze my feet off in the fast flowing water. I called it natures IcePack and it was very welcome. It seemed to be helping my feet a lot.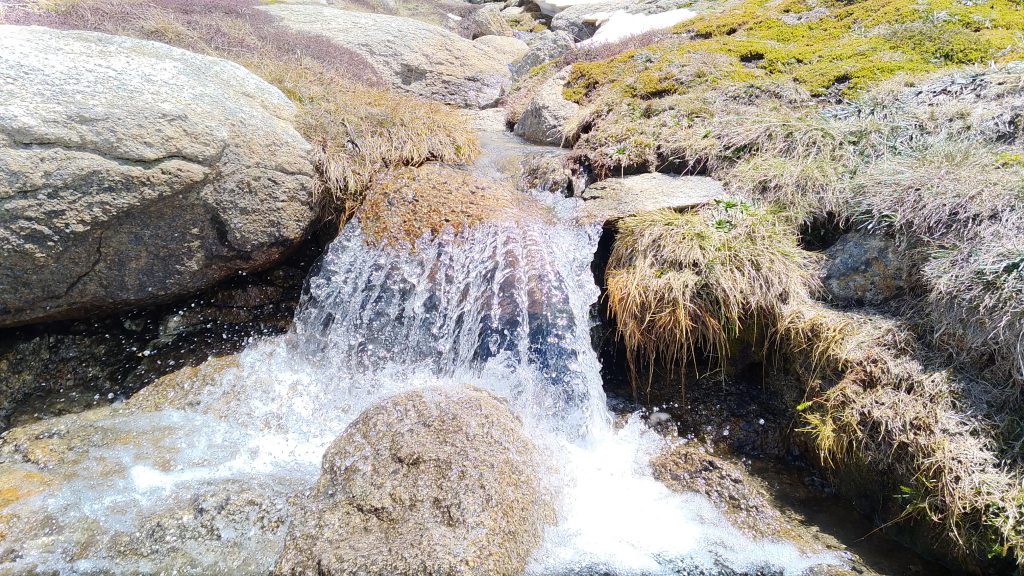 aaaaaah… Natures Icepack
Once we hit Rawson pass we had a choice to make, we either complete the easy 3km round trip to Mt Kosciuszko and then head back to Charlotte Pass, or just head back straight away. We chose the latter as we still had to find a place to camp, setup and get some rest in for tomorrow.
The plan for tomorrow was a big one and we were hoping to get up nice and early and get some walking in dark.
One thing I wont miss is the relatively boring summit track. Its all management road and feels like such a drag in comparison to what we had completed today. Thankfully we just needed to do this once more tomorrow morning.
Links for each day of my 2018 hiking trip can be found here:
Day 1: Mt Buller to Mount Stirling
Day 2: The Kelly tree & Bright
Day 3: Bungalow Spur, Razorback, Bon Accord Spur
Day 4: Mt Buffalo
Day 5: 11 peaks walk
Day 6: 11 peaks walk
Day 7: Bimbiri Wilderness and home