By Adrian | December 19, 2018
Sleep – its totally overrated, especially when you are the one not getting any sleep to begin with. The overnight weather was perfect. About 10 degrees, not cold at all, but I had made a critical mistake yesterday, one that I didn't realise in time and that was not applying sun-cream. I was burnt. My legs, arm and face all copped a lot of exposure on the range.
Trying to get comfortable wasn't happening, I'd roll on my side and my burnt legs stuck, on my back and my arms were sticking on the tent floor. My side of the tent seemed to be in a large hole. At some point overnight, I had to get up to go to the toilet and the star show was amazing, so clear with no light pollution. I could have stayed out there for ages, but I was tired – and couldn't sleep.
Somehow at around 4:30am we got up thinking we could beat sunrise and get some early morning walking in. Shortly after 5am no head torches were required anymore, but we still got a 2hr jump before the sun's heat kicked in. I made sure to keep that sun-cream going all day today.
Just before 8am we hit the summit of Mt Kosciuszko and this time there was just 1 person there and not the 100 odd people that were there last time we were there (that was around 10:30am during the school holidays)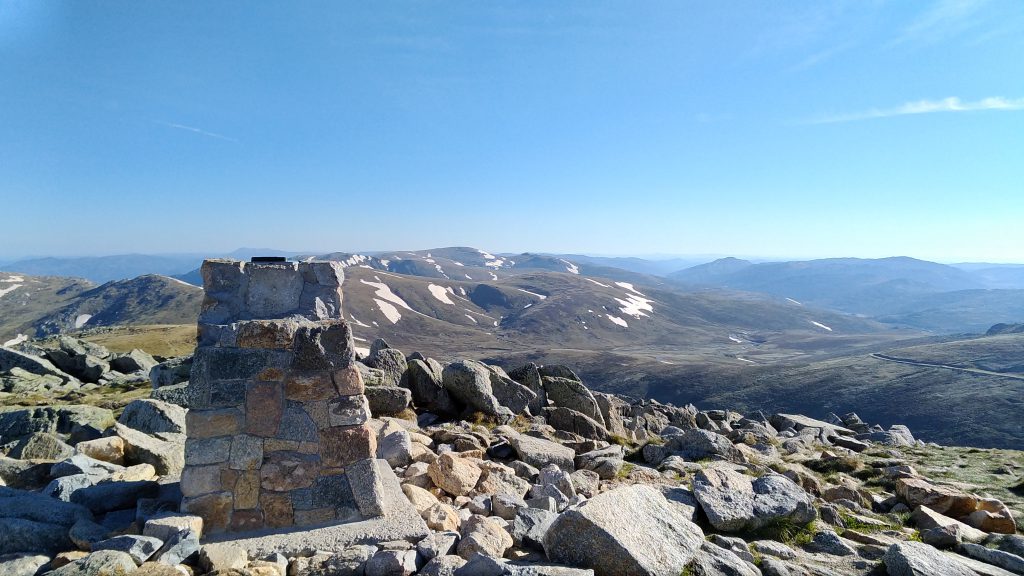 Summit of Mt Kosciuszko
After taking a short break we started heading back down the main range in search for the next peak – Mount Townsend, Mainland Australia's second highest peak. This was more of a challenge than Mt K as it did require some navigation around some snow sheets and a rock scramble up to the summit, but the views were totally worth it. It was also a lot further away than we realised and we took the time for a break and to evaluate where we were at.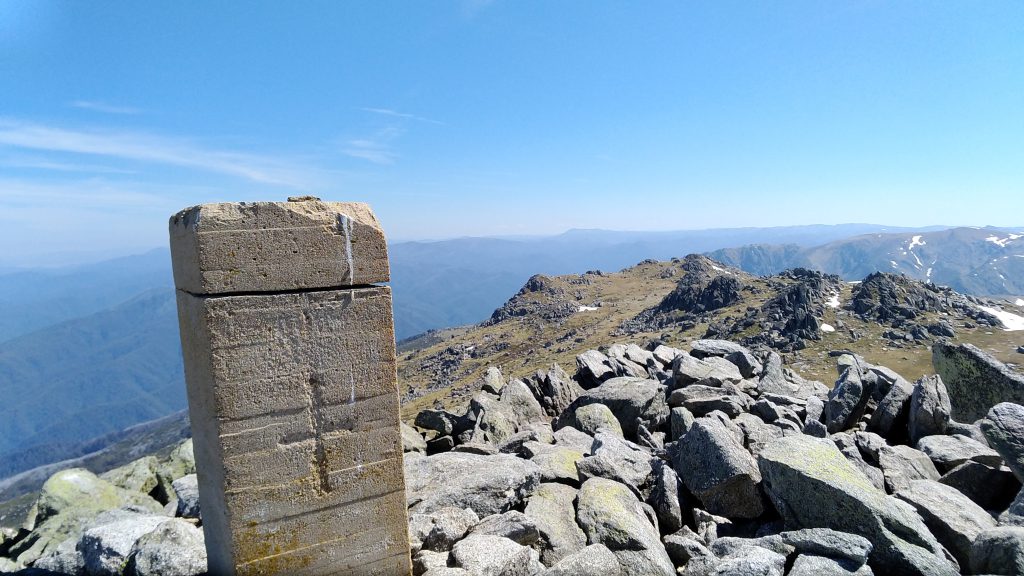 It was at this point we were going to make a play for Abbott peak which required us coming down from the summit and back up a large hill. When we got to the bottom of the hill, we saw no easy way that looked particularly easy to navigate up the rocky climb and decided that we were going to make a bee line back to the main range circuit instead.
We tried to take a sneaky shortcut to just head up and over a ridge where Albina Lake was, but were blocked by a large ice sheet which we would not have been able to navigate safely down.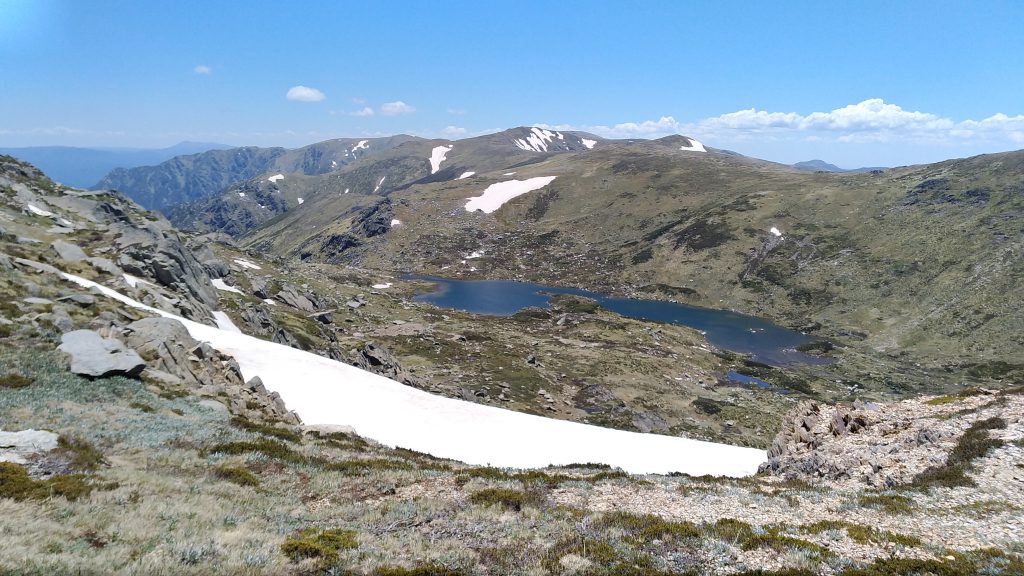 Once we did get back onto the main range we had to walk up to Carruthers Peak which we dubbed "Death Hill" at the time. (Looking back at the map now, it was only a 115m ascent over 3.5km). Shortly after this peak there was a turn off to Mount Twynam which was also another peak we were hoping to conquer but it wasn't going to be happening this trip.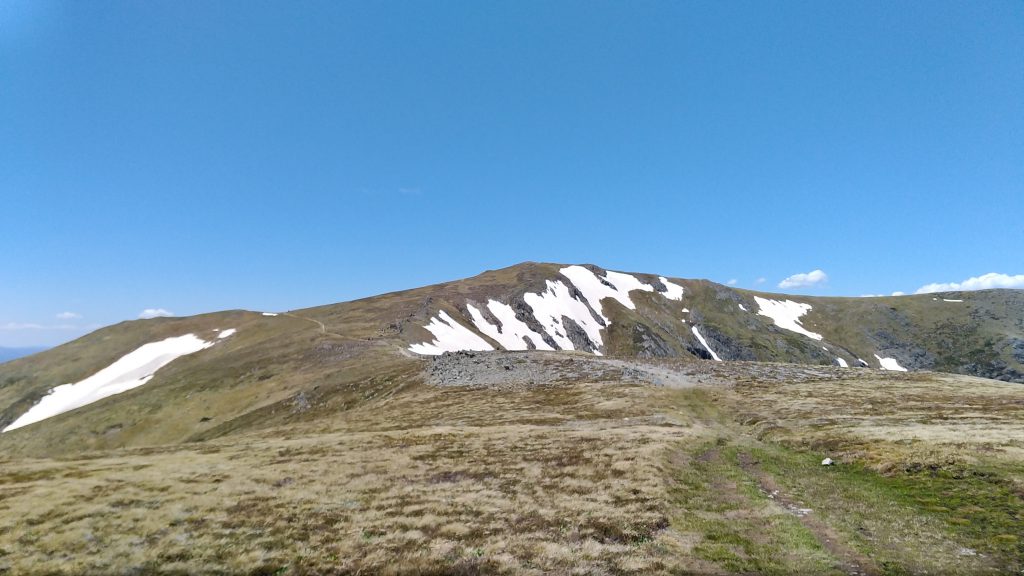 "Death Hill" – In hindsight, it was just a baby.
Once we hit the Blue Lake we knew we only had around 4km's back to Charlotte Pass. There was a 2 meter high ice sheet which we had to walk past which provided some much needed shade and cool, so it was a quick photo stop before we made our way down to the Snowy River for a break. After this, there was just one more hill to climb… "Death Hill 2". It was a slow and painful walk for me but I made it up.
After we finished the walking for the day, we headed back to the car to de-pack and get the supplies for the night, it was here that I wasnt in a good way. As I attempted to get back to the campsite my body decided it had had enough and was shutting down. I was cramping everywhere, feet and legs and even behind my ribs. I was in a lot of pain and gasping for air . It was almost as if I was having a panic attack. I was physically exhausted, dehydrated and mentally drained after what was a long week of hiking. Somehow I made it back to the campsite where I was able to calm myself, stretch and down 3 litres of Gatorade. That was not something I want to experience again and I think I found my physical limitation.
Thankfully tomorrow was the last day.
Links for each day of my 2018 hiking trip can be found here:
Day 1: Mt Buller to Mount Stirling
Day 2: The Kelly tree & Bright
Day 3: Bungalow Spur, Razorback, Bon Accord Spur
Day 4: Mt Buffalo
Day 5: 11 peaks walk
Day 6: 11 peaks walk
Day 7: Bimbiri Wilderness and home